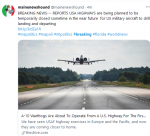 July 29, 2021
For the first time in recent history, the U.S. Air Force is going to take its aircraft out onto highways in the United States for an exercise. Four
A-10C Warthog
attack aircraft and a pair of
C-146A Wolfhound
special operations transports are due to take part in the road-landing drill, which is a part of the wider Exercise Northern Strike. As well as being a unique event in the United States, the upcoming highway deployment reflects the ever-increasing importance of dispersed operations for the U.S. military, including as part of the Air Force's
Agile Combat Employment
(ACE) initiative.
The highway exercise will take place on August 5 and is being run by the Michigan Air National Guard. With the help of the Michigan Department of Transportation (MDOT). A stretch of the Michigan State Highway M-32 near Alpena will be closed off for five hours, as the A-10s and C-146s touch down there.
Master Sgt. Scott Thompson
An A-10C from the 107th Fighter Squadron, Selfridge Air National Guard Base, Michigan, conducts close air support training at Grayling Aerial Gunnery Range in Waters, Michigan, in 2019.
"This is believed to be the first time in history that modern Air Force aircraft have intentionally landed on a civilian roadway on U.S. soil," said U.S. Air Force Colonel James Rossi, Alpena Combat Readiness Training Center commander. "Our efforts are focused on our ability to train the warfighter in any environment across the continuum so our nation can compete, deter, and win today and tomorrow."
The highway drills will be conducted by the Michigan Air National Guard's 127th Wing, which flies A-10Cs from Selfridge Air National Guard Base. Also involved is the Air Force's 355th Wing, which also operates A-10Cs, as well as combat search and rescue assets from Davis-Monthan Air Force Base, Arizona, Finally, there is participation by the Air Force Special Operations Command (AFSOC), from Duke Field, Florida, which is responsible for the C-146A, among other platforms.
This particular stretch of highway has been chosen due to its proximity to the Alpena Combat Readiness Training Center that's one of the facilities being used for Northern Strike 21-2, described as "one of the National Guard's largest joint, readiness producing exercises." The maneuvers will be run out of Michigan's National All-Domain Warfighting Center (NADWC), a huge training range where sea, land, air, space, and cyber capabilities can all be put to the test. Here, flying assets have around 17,000 square miles of special-use airspace in which to train.
For its part, the Michigan Air National Guard will also bring useful expertise to the highway drill, A-10s from the 127th Wing's 107th Fighter Squadron having operated from austere locations in the past, among them various
deployments from highways in Estonia
, including as part of the multinational Saber Strike exercise in 2018.
Air National Guard/Tech. Sgt. Christopher Schepers

An A-10C assigned to the 104th Fighter Squadron, Maryland Air National Guard, takes off for a training mission during Saber Strike 15 from Ämari Air Base, Estonia, in 2015.
What's more, the A-10 was designed to be able to undertake just these kinds of missions as part of its requirement to keep fighting on the Cold War-era battlefield. It's optimized for short takeoffs and landings and its landing gear boasts low-pressure tires for operating from highways and even rougher non-standard surfaces.
Much more here:
We have seen USAF highway exercises in Europe and the Pacific, and now they are coming closer to home.
www.thedrive.com