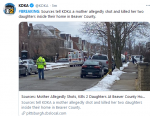 February 22, 2021 at 7:53 pm

AMBRIDGE, Pa. (KDKA) — Sources tell KDKA a mother allegedly shot and killed her two daughters inside their home in Beaver County.

Ambridge Police were called to a shooting in the 900 block of Maplewood Avenue Monday afternoon.
When they arrived, they found two people dead inside a home. Ambridge Police Chief John DeLuca called it a "gruesome scene."
KDKA spoke with one witness who rode by on his bike earlier and said he spotted a woman on the porch of a home being handcuffed by police. Another witness says she was walking her son's friend home from a sleepover while all of this unfolded.
"I said, 'Is it safe for us to walk him home?' and they said, 'We have to escort you.' And I said, 'That's fine, but is it safe, what happened, did something bad happen?' He said, 'We can't tell you,'" said Rachel Kruze.
More information is pending notification of next of kin, the Beaver County District Attorney says. A woman is in custody but no charges have been filed.
Stay with KDKA for the latest on this developing story.
A mother is charged with shooting and killing her two daughters inside their home in Beaver County.
pittsburgh.cbslocal.com