Thank you, Cori Bush, for taking this brave stand on behalf of rioters everywhere.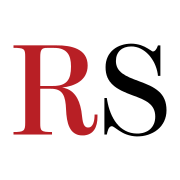 redstate.com
Capitol Riots Backlash Doesn't Keep Cori Bush from Bravely Tweeting 'A Riot is the Language of the Unheard'
By
Kyle Becker
| Feb 06, 2021 9:43 PM ET
(AP Photo/Jeff Roberson File)
Thank you, Cori Bush, for taking this brave stand on behalf of rioters everywhere.
Even if it was only by accident. On Saturday night, the presumably oblivious Rep. Bush, who fancies herself a profound truth-teller, had a
message on Twitter
for all of America.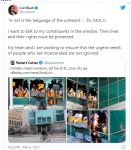 "A riot is the language of the unheard." – Dr. MLK Jr. I want to talk to my constituents in the window," she tweeted. "Their lives and their rights must be protected. My team and I are working to ensure that the urgent needs of people who are incarcerated are not ignored."
Bush was referring to a riot among St. Louis inmates who committed some truly admirable actions, as
reported
by the St. Louis Post-Dispatch:
A faulty locking system allowed inmates at a downtown city jail to escape their cells Saturday before freeing other "very violent people" who then caused widespread damage on a floor of the jail, including smashing exterior windows and sending flaming debris to the sidewalk below, city officials said.
About 115 inmates took control of the fourth floor of the City Justice Center where they set fires, clogged toilets, flooded parts of the floor and caused other damage, officials said.
Smashing windows and clogging toilets. MLK assuredly would have been proud!
While she cited Dr. Martin Luther King Jr. as a blanket excuse for such actions (King was unavailable for comment due to his tragic assassination over fifty years ago), she waded into territory she might not have intended.
The Capitol, you see, has been struck by riots. If you have somehow forgotten about them, let AOC
tell you all about it
.
Cori Bush is also quite the talker, making her statement exceptionally ironic. She has called for Republicans, whom she reflexively calls 'white supremacists' for unclear reasons, to be
expelled from Congress
.

She am-Bush-ed fellow colleagues with irrational demands to throw them out of the House based on ethereal claims of "white supremacy":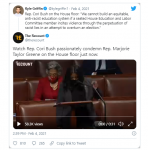 View: https://twitter.com/i/status/1357458756955746305
.31 min
She berated Rep. Marjorie Taylor Greene after an altercation she herself started. Watch:
View: https://youtu.be/peW0T_YMswU
1:17 min
"You think I'm going to make it all the way to Congress and then be quiet when white supremacy comes and knocks at the door?" Bush railed. "It's not that she can't evolve or be reformed, and so that's why I won't shut up, because maybe she just needs to be exposed that there is a whole other side to this thing: it's called loving humanity."
One thing that didn't come 'knocking at the door' was a rioter, thanks in part to a brave Capitol police officer who was treated like a would-be abuser after a
maudlin livestream
from AOC. Bush, for her part, was having flashbacks as if she was back in 'Nam like
Connecticut Dick
Blumenthal:
View: https://youtu.be/f1bWzLeB2xQ
.37 min
"You're not taking me out!"
she said
about rioters who didn't actually harm any Congressional members due to the heroic actions of the Capitol police and being evacuated to a different building.
"We would have been shot if we tried to do all that," she said, referring to the Capitol riots. Actually, a woman named
Ashli Babbitt
was
shot for merely voicing the "language of the unheard."
She has stunningly and bravely referred to the president (
not this one
, the previous one) as the 'white-supremacist-in-chief':
View: https://youtu.be/rouHokKy1-Q
.37 min
Alas, Cori Bush is also, perhaps, unaware that 'far-left extremists' are currently marching through the capitol right, making mostly peaceful threats like, "Burn it down!"
View: https://twitter.com/i/status/1358210898847035399
.10 min
This is a brazen show of force in the nation's capitol is despite the Defcon 3 warning that there is a "
terrorism bulletin
" issued by the Department of Homeland Security based on no "credible, imminent" intelligence that some "extremists" might rear their ugly heads again. (There have been no reports about serious action taken against this threatening left-wing mob at the time of publication.)
There is a current estimated force of 26,000 National Guard troops in the capitol ready to stand down if there is another riot at a cost to taxpayers of around
$500 million
.
If tonight's BLM march through the streets of D.C. is any indication, they probably wouldn't hear the "language of the unheard" if it were a screaming roar.