Has No Life - Lives on TB
I don't subscribe to The Atlantic so I can't bring the article but it has been quoted below from another source. What's strange is, before I posted this, I pulled up the link and noticed they changed the title to something a little less extreme I guess but no matter. I took a screen shot of the original.
Bottom line is, why am I not surprised? Frankly, I wonder why it took to long for the left's anti-rosary vitriol to come out of the shadows.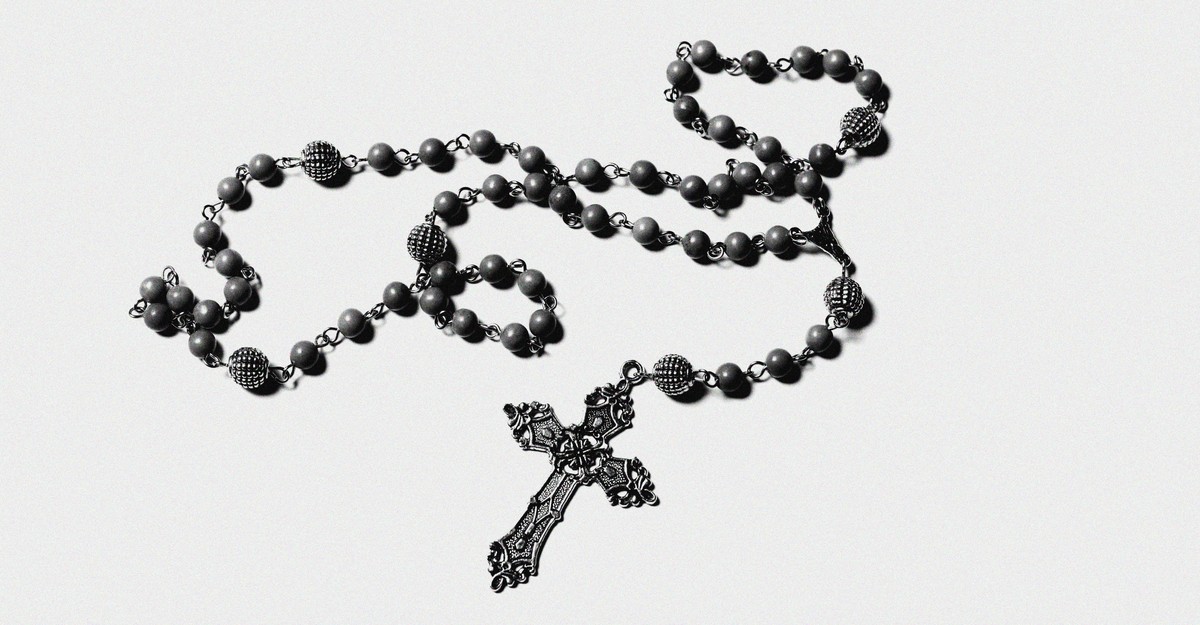 Why are sacramental beads suddenly showing up next to AR-15s online?

www.theatlantic.com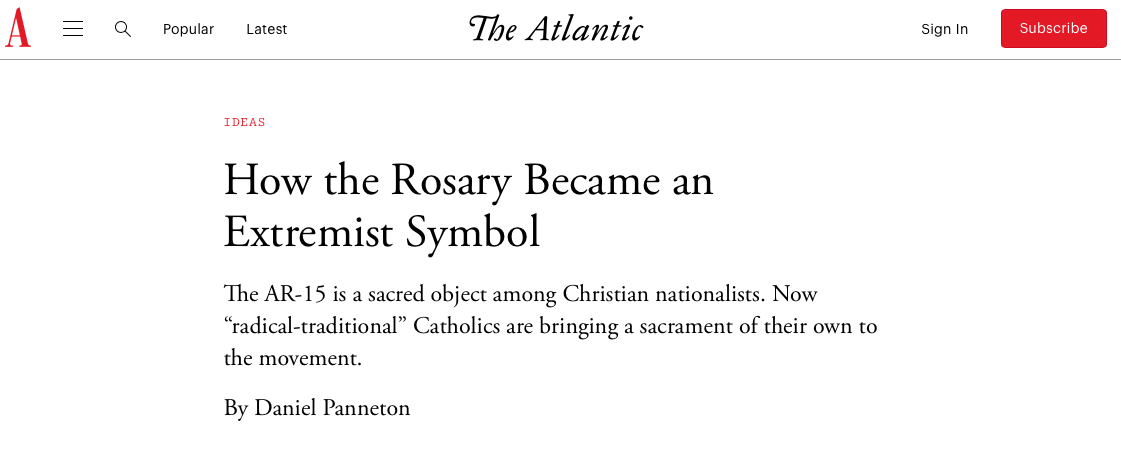 As quoted from PacificPundit.
Are you Catholic? Do you have rosary beads? If so, the left and especially some Canadian Marxist from The Atlantic
NOW CONSIDERED AN EXTREMIST SYMBOL BY THE LEFT: CATHOLIC ROSARY
Are you Catholic? Do you have rosary beads? If so, the left and especially some Canadian Marxist from The Atlantic left wing filth magazine thinks you are some sort of radical Christian extremist. The left's war on Christianity is getting crazy.
Quote from The Atlantic: Just as the AR-15 rifle has become a sacred object for Christian nationalists in general, the rosary has acquired a militaristic meaning for radical-traditional (or "rad trad") Catholics. On this extremist fringe, rosary beads have been woven into a conspiratorial politics and absolutist gun culture. These armed radical traditionalists have taken up a spiritual notion that the rosary can be a weapon in the fight against evil and turned it into something dangerously literal.

Their social-media pages are saturated with images of rosaries draped over firearms, warriors in prayer, Deus Vult ("God wills it") crusader memes, and exhortations for men to rise up and become Church Militants. Influencers on platforms such as Instagram share posts referencing "everyday carry" and "gat check" (gat is slang for "firearm") that include soldiers' "battle beads," handguns, and ̶A̶s̶s̶a̶u̶l̶t̶ Defense Rifles. One artist posts illustrations of his favorite Catholic saints, clergy, and influencers toting AR-15-style rifles labeled sanctum rosarium alongside violently homophobic screeds that are celebrated by social-media accounts with thousands of followers.
As one along with millions of others who say the rosary faithfully, I find it interesting to see this ramped up propaganda rhetoric, going from the usual thinking that the rosary is a foolish prayer to now "extremist???" Why is it targeted now? What warrants such an attack?
(Methinks that maybe it's targeted because even though we can't see, it's having some affect and they can't have that now can they???

)
I never heard of "battle beads" before but here's some cool trigger pictures of "battle beads" and the "warriors" who hold them: