My DW had posted a picture of our pantry on Homesteading Today many years ago.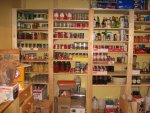 We had one last open wall in the pantry that we hadn't quite figured out what to do with. We finally made a decision and I picked up some lumber just before the quarantine. I made some narrow 1"x6" adjustable shelves that will be used for mostly empty jars.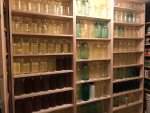 Then I decided to make some more narrow shelves for the ends of and between our other shelving. Most of the shelves are adjustable. I drilled 2048 holes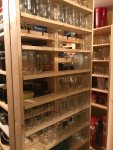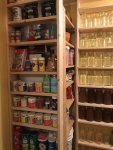 I can't stand sagging shelves. I made some out of MDF years ago, I'll never make that mistake again. These are made from some nice 1"x4"s they carry at a local lumber yard. They have nice rounded edges and barely require any sanding whatsoever. They haven't sagged in fifteen years or so.