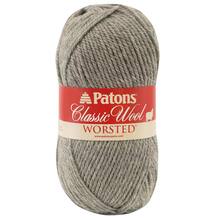 The timeless shade range and the supreme quality make for classic yet contemporary garments and accessories.
www.michaels.com
(hope that huge link works)
Anyone working with Patton's yarn? Looks like a viable economy yarn. My budget is going to shrink considerably in the coming months, but I still need yarn! This is about half what I usually spend for the yardage. While worsted wt. is a bit heavy for me, it will do. $6 for 200plus yards, 100% wool, not superwash (hate that), and looks like a nice round yarn that will highlight stitch definition. Not many colors available, but I'm not a color person - two greys and a brown should cover it.