Crazy as ever,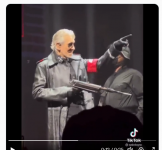 View: https://twitter.com/i/status/1662228208178061312
Pink Floyd's Roger Waters Under Investigation After Being Accused of Antisemitism at German Concert: Police​
The British bassist wore a Nazi-like outfit during a two-night stint in Berlin earlier this month
Published on May 26, 2023 06:55 PM
Musician Roger Waters of
Pink Floyd
has been accused of promoting antisemitism at a recent set of shows in Germany — though those familiar with the group say the rocker was in character as Pink from the band's rock opera
The Wall
.
Waters was filmed at the Mercedes-Benz Arena in Berlin on May 17 and 18 wearing a long black coat and red armband, with insignias that featured crossed hammers instead of swastikas during a two-day stint in Berlin,
according to Billboard
. In a skit between songs, the 79-year-old British bassist and singer also pretended to shoot a fake machine gun.
Another part of the concert deemed controversial featured names of activists killed by authorities, including political activist Sophie Scholl,
George Floyd
and
Anne Frank
, tweets from attendees at the concert
posted to social media show
. Frank's photo was reportedly juxtaposed with a photo of a journalist killed by Palestinian militants. Other stage set pieces allegedly included a giant inflatable pig featuring a Jewish star with symbols and words that floated over the audience. Banners in the style of the Third Reich featuring crossed hammers instead of swastikas reportedly hung from the ceiling.
Roger Waters Says He's 'Far More Important' Than Current Music Stars Like Drake and The Weeknd
Prior to the start of the show, the
Pink Floyd singer
took to the stage with the following message, "The show will start in 10 minutes and a court in Frankfurt has ruled that I am not an antisemite… just to be clear, I condemn antisemitism unreservedly."
Those comments were in response to a ruling in April by a Frankfurt court that said the city could not cancel a planned May 28 show by Waters, despite protests by several Jewish groups. Walters has been described by city officials as being "one of the most widely known antisemites in the world."
Police in Germany and Israeli authorities have since launched an investigation into the incident, they
confirmed to Reuters
. Use of
Nazi imagery
carries strict penalties in Germany — punishable up to three years in prison, though exceptions are made in the law for educational and artistic reasons. In Germany, Waters is currently being investigated under a separate law on suspicion of "incitement of the people."
British bassist Roger Waters wore a Nazi-like outfit during a two-night stint in Berlin earlier this month
people.com