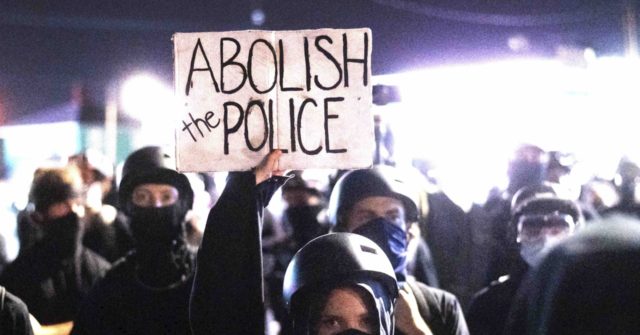 Oregon voters diapprove of the Porland protests; feel that they have been "mostly violent"; and prefer the word "riot."
www.breitbart.com
Oregon Poll: Majority Say Protests Violent; Trump Tops Local Leaders in Approval
JOEL B. POLLAK
16 Sep 2020
A poll of Oregon voters released late last week revealed that a majority disapprove of the Black Lives Matter protests in the state, and that President Donald Trump has higher approval than Governor Kate Brown or Portland Mayor Ted Wheeler.
The
poll
, conducted online by non-partisan DHM Research among 502 respondents from Sep. 3 to 8, showed that nearly two-thirds of Oregon voters disapproved of the protests in Portland, which stretched beyond 100 straight nights last week.
Contrary to claims by Democrats — including former Vice President Joe Biden — that the protests have been mostly peaceful, a majority of Oregon voters (56%) believe that the protests in the state have been "mostly violent," the poll discovered.
A similar majority (55%) felt that the word "riot" should be used to describe the protests, rather than "protest" (37%). And 42% believed that "police in Portland have not used enough force," compared to 29% who thought police had used too much.
Only 28% of those polled thought the Portland protests were helpful to black people; however, a majority (52%) of young people (18-29) and people of color (51%) were convinced that the protests were, in fact, helpful.
Voters were generally sour on all elected leaders: "Nearly six in 10 Oregon voters disapprove of how President Donald Trump (59%), Governor Kate Brown (57%), and Portland Mayor Ted Wheeler (58%) are responding to the ongoing protests." However, 39% approved of Trump's response, compared to 37% for Brown and 30% for Wheeler — though the difference between Trump and Brown was within the poll's 4.4% margin of error.
While Trump had the highest level of strong disapproval (51%), he also had the highest level of strong approval (25%).
A separate poll last week
showed
that a large majority of voters in Portland itself disapproved of Wheeler.
Joel B. Pollak is Senior Editor-at-Large at Breitbart News and the host of
Breitbart News