Hard day, so looking through pics and found a couple to share.

This is me holding my granddaughter just before they moved to Tampa a couple years ago. Hard being so far from them...but I am thankful every day for each one. With my DS and DDIL <3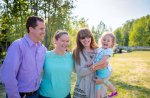 Below is my KathyinFlorida-inspired tea this morning (well, the ingredients before I made the tea). It was like gathering a bouquet...many wildflowers plus some herbs and flowers from my garden. Pretty yummy. This, and sitting among the birds (after working on that freezer I found out back....I AM going to get that thing in the house and working), just made my day better. May you all have a blessed evening and a wonderful Sunday.

Summertime Tea: