Snark: a higher form of communication
_______________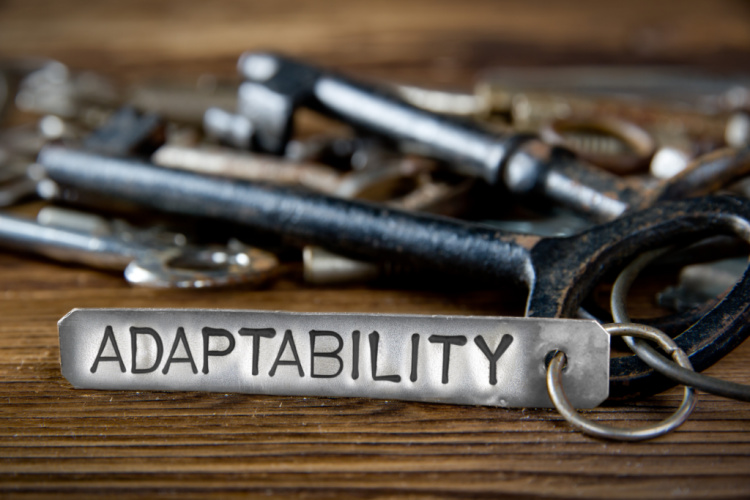 One of the major components of preparedness is adaptability. Here's how 30 preppers have adapted to our current situation and what they foresee in the near future.
www.theorganicprepper.com
There's a lot more crazy and a lot less money than usual, and as I've written before, the face of prepping has changed. It's a lot more difficult (and expensive) to go out and stockpile as we did a few years ago, and the event we've faced has been a slow-burning SHTF event that has slowly and insidiously taken away financial security from hundreds of thousands of Americans.
I wondered how others have changed the way they prep to adapt to these times so I asked the folks in our Me-We group if they've changed how they prep and if so, what changes they've made. If you are interested in joining the group,
go here
, answer four questions, and be sure to change your profile picture from the Me-We basic images. We don't care what you change them too, we're just trying to avoid "bot" traffic from prowling through our group.
Here's how readers have changed the way they prep.
With some of the comments, I've added a comment or a link in italics for more information.
Eileen:
I am working on doing even more with even less. I was laid off at the beginning of Covid. Hubby's paycheck is down a bit. We have been watching the cost of regularly used items skyrocket, yet again. Teaching myself to grow more long term food items this year. At this point, Daisy, just not giving up feels like prepping, even if it's just to get up tomorrow and try again.
Here's an article on how to keep going when things feel hopeless. ~ D
Lynn:
We are getting ready to move. I am using my food preps to see what we really need and what has been hard to use up. Mostly pertaining to food and household essentials. Saving the money to buy fresh preps after the move. We moved a year ago and I had a huge stockpile that had to be moved twice in two months. I think it is better to use it up than move it and then replace it with fresh food and water.
This is a great way to rotate your stock and always have fresher products available. Just pay attention to the things that are in shortage or difficult to acquire. You may not want to go through that supply just yet. ~ D
Jeff:
I have been building up at least a year's supply of essential items like laundry detergent, shampoo, hand soap, toothpaste, etc. I will be using the stimulus check to add to my freeze-dried food inventory (mostly protein) since I have 1k lbs of dry food stored away. I don't know if hyperinflation, war, or another pandemic may hit but if it does the goal is to be able to go at least a year without leaving the house.
This is a fantastic goal!
Tami:
After the Texas snowstorm, I'm prepping mainly for life without electricity. I've lived off the grid before but had stopped so I'm going back to it. I also realized my need for more stored water .
Here's an article about preparing for longer-term power outages. It's a great place to start if you're new to prepping or if you simply need to make sure you have the things you need. ~ D
Christina:
Prepping mainly for economic upheaval. We kicked up food storage (have a working pantry) January 2020, but it wasn't an issue to grocery shop in my area, so I slacked off a bit. August of 2020, we put together 6 months of food (again a working pantry I use and replenish), paying off debts, saving money, buying silver, ammo, guns, etc. Anything that will aid us as food and fuel prices goes up or our income goes down. So far, our income has increased since last year, but you never know. I'll add my pantry includes HH / personal items too.
Stocking up on things other than food is really important. Here's a list of non-food stockpile items that may inspire you to add to your own supplies. ~ D
Vicki:
We are prepping for civil unrest and skyrocketing inflation. I've been watching the groceries I normally buy going up a lot. We are planning to grow more veggies and put in some more fruit trees. We are also making sure we have extras of the tools we use, and enough supplies to fix things(tools, machinery, plumbing, electrical, etc.) that might break. Lumber has also gone up a huge amount, so we are buying extra of that too.
Having spare parts for tools and essential equipment is a vital and often overlooked prep. ~ D
Diane:
Everything I can think of from food to security.
Keeping your preps balanced and not focusing too specifically on just one aspect is advised. Toby talks about the vital balance in this article. ~ D
Max:
Building out networks and relationships. Human terrain not "stuff".
Here's advice on building community even during a pandemic and be sure to check out Selco's on-demand webinar about community building. ~ D
Susan:
I think hyperinflation and the possible dollar collapse is more possible now than ever. I am adding canned and dried food stocks to my preps especially items that are predicted to become exorbitantly expensive like corn and coffee. I am also eagerly watching my garden waiting for it to thaw out. Most of the snow and ice is gone except in the woods.
Here are some things you can do right now to get ready for garden season and here's some advice on how to start planning your garden. ~ D
Sheri:
I'm turning more of my yard into vegetable/herb gardens and will preserve most of the produce. Adding to non-perishables when I see a good sale. Learning basic survival and self-sufficiency skills. Moving toward a simpler lifestyle, so living without modern conveniences will be less of a shock.
This is precisely why
my preps are low-tech. ~ D
Stacy:
Survived Texas without blaming the governor or president for leaving me in the cold. We need more stored water. Had enough but saw that I needed more for cleaning. Need larger pots. Fed 7 people easy as my house was only one with gas cooktop. Need cookware to feed 20…and preps to make my own soup kitchen. Need back up potty! Do I have 100 candles? More lamp oil. The little tealight under flowerpot did help to make room cozier. Store for this. A way to wash clothes. A way to take warm shower and wash hair. Prepare a menu, recipes, and storage for meals on the stove top. Prep to share with family. (I live on 20 member family compound.) A way to charge phone. Size c batteries to listen to CDs….more CDs. Hootch. OTC
Awesome learning experience. I can definitely help with instructions for this off-grid kitty litter potty for humans. ~ D
Ezra:
We are working on paying off debts (Dave Ramsey) and materials for life without electricity. We lost power for 4 days during the winter storm here in Texas
Here are a couple of articles you may find helpful regarding debt (one is directly from Dave's strategies) and here's an ebook about dealing with power outages. ~ D
Lynn:
We are focusing on our garden this year. Our goal is to be as self-sufficient as possible in regard to produce. I want to save seeds from the garden for the future. We aren't growing grains, wheat, and oats, though. That is a future project.
Here's our favorite source for seeds
– you can also get a free garden planner at that link and it is a small, family-run business. ~ D
Rob:
The money hasn't changed for me in the Great White North. I've realized, though, that prepping for an event like an EMP is trying to play apocalypse lottery; better to consider the consequences of whatever it is you worry about and prepare for those. It stops you from making assumptions. (Makes an ass of U and umptions). I.e. instead of prepping for an EMP, I'm prepping for a collapse of communication and transportation of goods like food, no matter the cause. I'm expanding my EMP-proof storage still but I'm more prepared to handle, say, a food shortage whereas before my food plans only involved getting out of the city and joining a full farm.
I think there's a lot of wisdom to what you said there. A lot of folks hyperfocus on just one thing when in fact most disasters are an entire series of bad things. Some useful links might be this one about making a Faraday cage, this one about a communications collapse, and this one about the strain on our transportation system for goods.
Bestsmall country:
Hi Daisy, I've been watching everything since early 2018, and the most striking thing is the correlation between Q and the Bible!! I did most of my prepping back then. Long-life food, seeds (I learned how to grow veg). All done under the radar, especially Crypto and PMs. Skills will be the REAL asset. I'm hoping a local viewer of my channel will 'kidnap' me because the idiots that wouldn't listen will be banging on my door
OpSec is more important than ever! Here's an article that might help others who are thinking like you about doing things under the radar. ~ D