Home made English muffins. Dennis asked about my comment on the muffins, and after wanting some for a few days, I made a batch last weekend. Takes about an hour start-to-finish.
The Recipe I used:
-----------------
Homemade English Muffins
1 1/4 cup milk, warm
3 tbsp butter or margarine (I melt it in the milk.)
1 1/4 tsp salt
1 egg, lightly beaten ( I beat in the warmed milk and melted butter.)
4 to 4 1/2 cups flour
1 package yeast ( or equivalent loose yeast)
Place ingredients in bowl and mix together. Knead in the extra flour until it's not very sticky. Roll dough out onto cornmeal covered surface. (I just use flour because I never remember to keep cornmeal in the house.) Cut out dough into circles (whatever size you want). Cover and let rise about 20 minutes.
Heat frying pan (or griddle) to low heat. Place muffing cornmeal side down. Cook about 3-4 min each side, not too dark.
If you made the muffins too think and the center isn't cooked through you can place them on a baking sheet and put them in a just warm (200F) oven for about 10-20 min
-------------
I didn't have the milk warm enough and the butter wasn't melted all the way this time. That made mixing a bit hard, but it worked ok. Unfortunately, the dough was too dry, and I wound up discarding about a fifth of it when I ran out of milk.
But, the muffins were great. Cooked about 3-6 minutes on each side and other than the first pan full that were a little scorched before I turned the heat down, all were better than I expected. Made about a dozen large muffins. I've used this recipe numerous times before, but this is the first time on this stove.
They didn't last a week around here though. Hot off the skillet with plenty of butter, a little jam!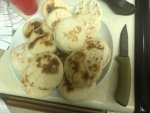 Some pictures...