I was very surprised with the questions Ted Koppel asked visitors from all over the US while they were on a trolley car in Mt Airy, NC aka Mayberry.
He asks all the right questions, on who thought the election was accurate, what people thought of January 6th, what they thought of the Arizona audits, I think. Basically asking who beleived it was rigged, etc. And pretty much everyone said they thought it was rigged and Buy den is not our president.
It makes me wonder if Koppel is on Trump's 'side'? Very good. run time 13.23, the trolley conversations start at the 10 minute mark.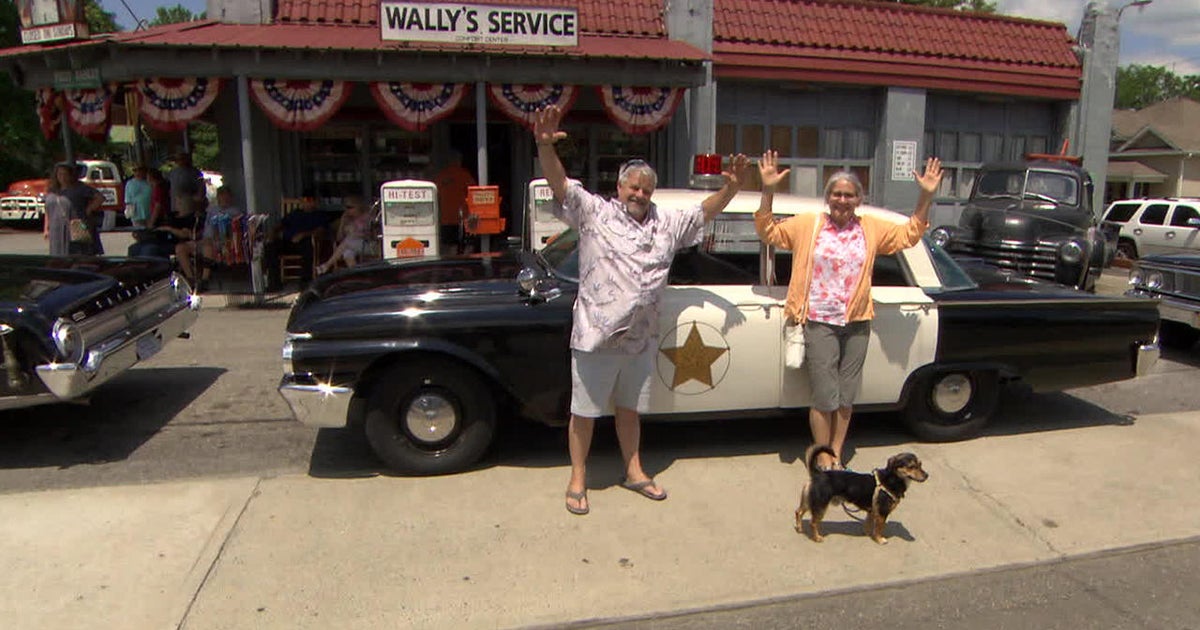 Mount Airy, N.C., the inspiration for Mayberry in the 1960s comedy "The Andy Griffith Show," has reinvented itself as a destination for hundreds of thousands of fans of the show who visit each year – nostalgic for a town that never really existed.
www.cbsnews.com
Mayberry visitors talking Trump last 3-4 minutes
"It's a little bizarre, isn't it?" asked "Sunday Morning" senior contributor Ted Koppel. "It went off the air more than 50 years ago."
"Yes, sir."
"It captured a reality that never was."
"True; Mayberry
is
fictitious," Collins said. "Most everyone knows that! Except maybe some of the rabid fans of the show. They believe it's real."
And, let it be said, the town isn't doing a whole lot to undermine the illusion. Stop by at Wally's filling station, and you can get a ride around town in a vintage Ford Galaxy squad car. These days there's a whole fleet of them carting tourists around town.
Once a month or so, Betty Lynn, who played Barney Fife's girlfriend Thelma Lou, is brought from a nearby retirement home to the Andy Griffith Museum, where crowds of appreciative fans line up for autographs.
"I'm from Arkansas, I've been waiting to see you for 30 years!" said one woman. "I can die now!"
Collins said, "We are constantly looking at other ways that we can promote the community, 'cause we know the Mayberry generation won't be here forever. But now with streaming television, Andy will be forever with us, and we hope a younger generation will pick it up."
As if on cue, the Foster family, from Pomeroy, Ohio, showed up. It is no exaggeration to say that this re-creation verges, for the Fosters, on being a national monument.
Koppel asked the Fosters, "You watch 'The Andy Griffith Show'
four hours a day?
"
"More than that," said Bobby Foster.
"What do you mean, 'more than that'?"
"It's on sometimes early in the morning," Sarah Foster explained.
"Aren't you afraid that after a month or two of watching four hours or more a day, that you're gonna turn his little brain to mush?"
Koppel asked the trolley's riders, "I know you came here to have a good time and not to talk politics. But let me just ask you, as a matter of curiosity, how many of you think we had a fair election?"
"No way!" said one man wearing an American flag T-shirt with the word "Patriotism."
"I saw two hands go up," Koppel said. "So, is it fair to say the rest of you think that it was
not
a fair election?"
"No, no. No, it wasn't. I don't think it was at all," said the man.
Another man said, "I think there was a lot of voter fraud. It's never been proven. There's been people that's voted that's been dead 15 years. I think it's more the mail-in ballot stuff. You don't know how much of those that were duplicated, triplicated. The whole bit."
A third man said, "Look how many dead people voted for Biden."
Koppel asked, "One question, it's a serious question and I know you all will take it seriously: Tell me what
you
think happened on January 6 at Congress?"
The first man said, "They showed truckloads of people that they were bringing in for this. It was all
staged
. And that's how it started. They even showed pictures of it on the news, about these vehicles coming in with all these BLM people."
Another man, who believed the election was fair, called the January 6 attack, "A disgrace on our country."
"Whose fault was it?" Koppel asked. The man smiled.
One rider did blame Donald Trump, but he was in a distinct minority. A woman said, "I think it was staged. We've been to a lot of the Trump rallies, and I don't understand why they're focusing so much on that one issue when there's so many cities that are being burned down every day by protesters. It's supposed to be peaceful. But it's all focused on holding these two people."
"Murder and kill everybody there – hang 'em, put 'em in jail," said the first man.
Another woman said, "We don't even watch news on TV anymore. We don't feel like we're being told the truth. And we find our truth in other ways. And I won't say what those other ways are, but I feel like we're not being told the truth, because we're trying to be swayed in a direction that we know is not the right direction."
"I won't be offended," Koppel said. "I've been a journalist all my life. When President Trump talked about the press being the enemy of the people …"
"They are!" the woman replied. "And I love President Trump. And I love that man. I do."
A third woman said, "I just hope when this airs, it won't show Southerners as a bunch of dumb idiots. Like so many parts of the country do, you know? We have a lot of love in our hearts. We love our country. We love our fellow man. And if the rest of the country felt like that, it would be a better place."
A fourth man asked, "Mr. Koppel, can I say something? This conversation about politics and division is what people come here to get away from. We don't care what color you are. We don't even care what your politics are. We just want to be good neighbors and treat everybody alike. And that's why they're coming here."
The Barney Fife impersonator added, "That's what America should be."
And, when the script was written in Hollywood, that's the way it
was
.
Last edited: