Chief Curmudgeon
_______________
I'm doing another loaf this morning of this:
This morning's attempt is granola bread with a few custom additions. 1 c milk (80-90°) 2 Tbs unsalted butter or oil (room temperature) 2 Tbs honey (I used orange blossom) 1 tsp salt 3/4 c granola 3 c bread flour 1/2 tsp cinnamon (I used 3/4 tsp) 2 1/4 tsp yeast Makes a 1 1/2 lb loaf I added...

www.timebomb2000.com
It makes the fourth time for this recipe. I absolutely love it. Not too sweet, not too "savory" (I guess that's what "non-sweet" stuff is called.) I add extras as I say in the recipe thread. Today I had to add just over 4 Tbs of extra water. It's kind-of dry in this house.
And here's how it came out. Ended up being only 1/4" from the sight window on the lid. Best rise yet.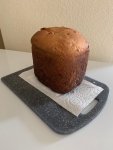 Last edited: