I really, REALLY like Lt. Gov. Mark Robinson!!! EXCELLENT CHOICE for V.P.!!
For this one you do HAVE TTO SEE VIDEO AT LINK because it's not from yt!
It starts at the
9:34 mark through the 25:12 mark (16 minutes and change),
but listening to the commentators after this speech was also FUN!
I'm just going to screen cap the short introduction.
Mark Robinson, "If I Were the Governor of Texas"... - The Last Refuge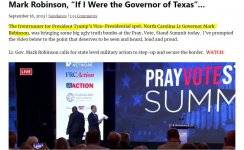 Yup, He's Calling Home

The Mules!

​
​
​