I enjoy seeing pics of everyone's gardens, so I thought I would share some of mine. The growth is so lush this year, that it's a little hard to tell the plants apart so I'll try to describe.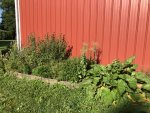 This is the herb raised bed next to the barn. From right to left, there is rhubarb, Bibb lettuce waiting for seed collection, peppermint, tarragon, bee balm, sage, chives, lavender, garlic chives, oregano, and chamomile volunteers throughout. A few marigolds too.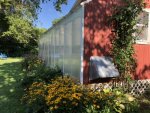 The flowerbed in front of the greenhouse is being taken over by echinacea and Black-eyed Susans.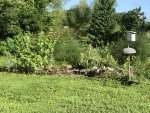 Hog panels are arched over the asparagus bed to grow squash- spaghetti squash on this side, butternut on the other. The blossoming plants in the middle are catnip, which grows wild all over the place. We dump wood chips and bark from sawing and splitting firewood on this bed and the soil is very rich. The bluebird house on the right has its third set of babies this summer. You can see my pawpaw trees in the background.
Baby bluebirds. I love having bluebirds, they are bug eating machines when they are feeding babies.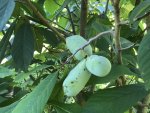 Pawpaws, in case you've never seen them. They grow in a cluster and are 4 -5 inches long. Due to a late freeze, they are the only tree fruit we're getting this year.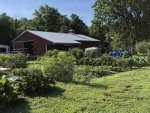 Main garden. On this side: herbs, sweet potatoes, bush beans, peppers, zinnias, Swiss chard, okra, zucchini, and pole beans.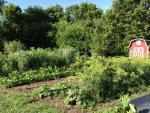 On this side, a hog panel with dill planted on one side and Sumter cucumbers on the other. Then melons, bush beans, flowers, and 2 dozen tomato plants.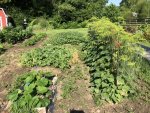 Side view of the cucumber fence, second planting of zucchini, melons, and sweet potatoes in the distance.
Raised beds along the north edge. Mostly weeds right now, but the closest bed is a new strawberry bed with a couple of brandywine tomato volunteers that popped up. The mini hoop house is coverless for now but has garlic, celery, and a few herbs awaiting seed collection. The bed on the right still has kale and onions, and just out of the picture is an inverted V trellis where I started a second planting of cucumbers.
Last edited: